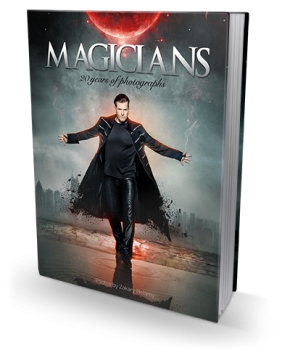 MAGICIANS
The ultimate books of photographs of Zakary after nearly 20 years shooting magicians…
"VISION" of Lu Chen
Lu Chen shares with people his vision of magic through his live shows.
All About JANE
The most original project of Zakary Belamy shooting the same Taiwanese model over 2 years…
SHIMADA
The Japanese living legend and master of dove magic ever…
Zakary Belamy
Who is Zakary Belamy and why he chose magicians?
LU CHEN
The new super star of magic in Asia.
DAVID SOUSA
The World Champion of Magic 2006 presents his new DVD.
DAVID BERGLAS
Richard Kaufman publishes the life of David Berglas and his "Best kept secret magic".
JACQUES DELORD
The unforgettable Jacques Delord at last published.
TESTIMONIALS
Clients love us
Paul Wilson

Zakary sees his subject in a way only a true artist can convey. With a few lights and a camera, he dances the line between genius and insanity." R. Paul Wilson.
Gerrit Brengman

There are magic photographers; there are good magic photographers; there are excellent magic photographers and… there is the unequalled Zakary Belamy.
Cyril Takayama

Zakary is a real magician behind the lens. He never fails to amaze everyone with his vision. A true genius!
We can help you in all kind of projects.
THROUGH CREATIVE IDEAS, INNOVATION & SHEER DETERMINATION